| | | |
| --- | --- | --- |
| " | Just because I look like a man doesn't mean I have to smell like one. | " |
| | ~ Mulan. | |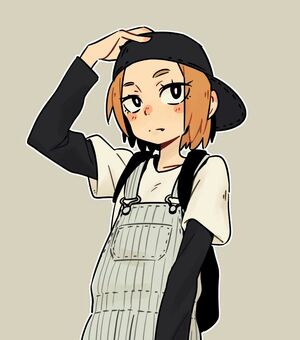 Tomboys are female individuals that include the role of a male. Not to be confused with lesbians, who shows attraction to the same gender. They may be often told by others to act more feminine which they often disagree with. They may see femininity as a sign of weakness, grew up with mostly male family members, lack of a motherly figure or simply they just prefer the roles that are often associated with males. However, Tomboys do not have to be entirely masculine; they can possess some girly traits that they may or may not be ashamed to have, in which case they are known as "Tomboys with a Girly Streak" (the same can be said for Girly heroines, who do not have to be entirely feminine and can possess some tomboyish traits, in which case they are known as "Girly Girls with a Tomboy Streak").
Examples
Cartoons and Movies
Animated TV Shows
Lori, Luna, Lynn Jr., and Lana Loud, Ronnie Anne Santiago and Sid Chang (The Loud House)
April O'Neil (Teenage Mutant Ninja Turtles)
Buttercup (The Powerpuff Girls)
Tinker Bell (Disney's Peter Pan and Disney Fairies)
Rainbow Dash, Applejack, Scootaloo, Smolder, and Sunset Shimmer (My Little Pony: Friendship is Magic)
Velma Dinkely (Scooby-Doo)
Sandy Cheeks (SpongeBob SquarePants)
Cindy Vortex (Jimmy Neutron: Boy Genius)
Kim Possible
Jenny Wakeman (My Life as a Teenage Robot)
Sam Manson (Danny Phantom)
Gwen Tennyson (Ben 10)
Raven (DC Universe)
Gosalyn Mallard (Darkwing Duck)
Ashley Spinelli (Disney's Recess)
Turanga Leela (Futurama)
Fionna the Human (Adventure Time)
Vambre Warrior (Mighty Magiswords)
Musa, Tecna and Aisha (Winx Club)
Supergirl (DC Universe)
Max, Barbara Brownstein, Maddie Fitzpatrick, Nia Moseby and Bailey Pickett (The Suite Life series)
Dolly (101 Dalmatian Street)
Pepper Ann Pearson (Disney's Pepper Ann)
Ms. Marvel (Kamala Kahn (Marvel Universe))
Anne Boonchuy (Amphibia)
Patsy Smiles (Camp Lazlo)
Princess Pea/Princess Presto (Super Why!)
Bessie Higgenbottom (The Mighty B!)
Yin (Yin Yang Yo!)
Yumi Yoshimura (Hi Hi Puffy AmiYumi)
Maggie Pesky (The Buzz on Maggie)
Lexi Bunny (Loonatics Unleashed)
Lola Bunny (Looney Tunes)
Kitty Katswell (T.U.F.F. Puppy)
Zarya Moonwolf Arkayna Goodfey (Mysticons)
Sloane Plunderman (D.N. Ace)
Frida Suárez (El Tigre: The Adventures of Manny Rivera)
Wendy Testaburger (South Park)
Daria Morgendorffer (Daria)
Hayley Smith (American Dad!)
Kylie Griffin (Extreme Ghostbusters)
Shanelle Spencer, and Blaze Summers (Beverly Hills Teens)
Sgt. Emily Hart (SilverHawks)
Jade Chan (Jackie Chan Adventures)
Meg Bennett (Bionic Six)
Juniper Lee (The Life and Times of Juniper Lee)
Princess Calla (Adventures of the Gummi Bears)
Tara Boumdeay (Attack of the Killer Tomatoes)
Ingrid Third (Filmore!)
Foxxy Love (Drawn Together)
Tueday X (The X's)
Animated Films
Fa Mulan
Kayley (Quest for Camelot)
Princess Merida (Brave)
Vanellope von Schweetz, Sergeant Calhoun, and Shank (Wreck-It Ralph)
Tigress (Kung Fu Panda)
Princess Jasmine (Aladdin)
Cera (The Land Before Time)
Tip Tucci (Home)
Melody (The Little Mermaid II: Return to the Sea)
Rita Malone (Flushed Away)
Astrid Hofferson (How to Train Your Dragon)
Sam Sparks (Cloudy with a Chance of Meatballs)
Mavis Dracula (Hotel Transylvania)
Tulip (Storks)
Judy Hopps (Zootopia)
Ash (Sing)
Jessie (Toy Story series)
Go Go Tomago (Big Hero 6)
Violet Parr (The Incredibles)
Wyldstyle/Lucy (The Lego Movie)
Joy (Inside Out)
Darma (Rock Dog)
Moana
Winnie Portley-Rind (The Boxtrolls)
Katie Mitchell (Connected)
Live-Action Films
Flopsy, Mopsy and Cottontail (Peter Rabbit)
Natty Gann (The Journey of Natty Gann)
Jessica Harrison (The Man from Snowy River)
Anime
Misty, May, and Iris (Pokémon)
Lina Inverse (Slayers)
Videl, Chi-Chi, Pan, and Caulifla (Dragon Ball)
Sailor Jupiter (Sailor Moon)
Jolyne Cujoh and Trish Una (JoJo's Bizarre Adventure)
Asuna Yuuki, Lisbeth/Rika Shinozaki, Sinon/Shino Asada and Yuuki Konno (Sword Art Online)
Tsuyu Asui, Momo Yaoyorozu and Kyoka Jiro (My Hero Academia)
Umaru Doma and Kirie Motoba (Himouto! Umaru-Chan)
Rin Hoshizora and Nico Yazawa (Love Live!)
You Watanabe and Kanan Matsuura (Love Live! Sunshine!!)
Fumina Hoshino (Gundam Build Fighters Try)
Natsumi Hinata and Koyoki Azumaya (Sgt. Frog)
Ryuko Matoi (Kill La Kill)
Origami Tobichii and Kotori Itsuka (Date A Live)
Pururun/Polly Esther (Kyatto Ninden Teyandee/Samurai Pizza Cats)
Kei (Akira)
Julis-Alexia Marie Florentia Renate van Riessfeld (The Asterisk War)
Video Games
Carmelita Fox (Sly Cooper)
Coco Bandicoot (Crash Bandicoot)
Barbara (Rayman)
Carol Tea (Freedom Planet)
Neptune, IF and Uzume (Hyperdimension Neptunia)
Alyx Vance (Half-Life series)
Roll Caskett (Mega Man Legends)
Natalie and Yumi (Ape Escape)
Pastel (TwinBee)
Emi and Rena (Dance Dance Revolution)
Sakura Kasungano (Street Fighter)
Yuri Sakazaki (SNK Universe)
Sonya Blade (Mortal Kombat)
Julia Chang, Asuka Kazama and Leo Kliesen (Tekken)
Leia Rolando (Tales of Xillia 1+2)
Misako (Kunio-kun)
Sun Shangxiang, Xingcai, Guan Yingping and Lu Lingqi (Romance of the Three Kingdoms and Dynasty Warriors)
Aoi Asahina and Sakura Oogami (Danganronpa)
Aile (Mega Man ZX)
Kim Wu (Killer Instinct)
Jade (Beyond Good & Evil)
Reiko Hinomoto (Rumble Rose)
Athena Cykes (Ace Attorney series)
Community content is available under
CC-BY-SA
unless otherwise noted.