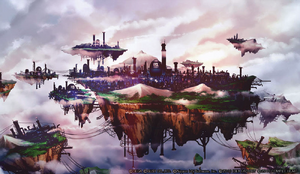 Lastation
is guarded by the goddess
Black Heart
. For some people, they call it "The Land of Black Regality" or "steam punk" among other things. In terms of theme, it can be said that Lastation is the darkest of the four landmasses run by the Hearts. It is also call the Heart of
Gamindustri
due to being surrounded by the other three nations in MK2.
Residents
Edit
Appearance
Edit
It's theme looks like that of steam-punk. It's rather dark and smoky compared to the other landmasses.
In Hyperdimension Neptunia Mk2, it looks less smoky and a little cleaner after many years. There are more modern buildings.
The transportation system is most likely very delicate, as Black Heart mentions in a blog that she hopes the windy evening hadn't messed with it.
In Victory, the incident happened on Lastation's online server that has been hacked is a reference to the 2011 PlayStation Network security breach caused by an external intrusion, forcing the network to shut down for a month. When Lastation's server is back online and normal, they offered free games as a sign of their apology. The same thing happens in the real one when the Welcome Back campaign launched by the time PSN is online again. During the campaign, Sony offered 2 of 4 PS3 games, and a PSP game for all users affected as a sign of the apology.
Community content is available under
CC-BY-SA
unless otherwise noted.