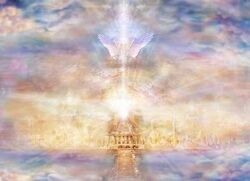 Heaven is the home of God, Jesus Christ and many angels. It is the opposite of Hell. Heaven is the good-natured paradise beyond human thoughts. It is usually described as just a beautiful land full of clouds. Its attributes are joy, compassion, community, harmony, peace, bliss and love. Heaven is the transformation of chaos into order. One of the best ways to enter Heaven is to have faith in Jesus Christ. Heaven is the home of all that do God's work and help people and put all their faith into God.
External links
Community content is available under
CC-BY-SA
unless otherwise noted.