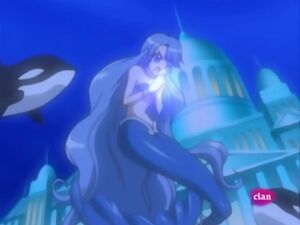 The Arctic Ocean Castle is the castle that Noel and her servants live in. It appeared in episode 27 and pure episode 15.
Arctic Palace
Noel's kingdom is at the North Pole. During the early events of Pure, Noel, Karen and Coco left to rebuild their kingdoms. The whole kingdom is glass, so it's known as "The Kingdom of Crystal. " It also has many ice sculptures as they are in polar regions.
It is said that when she built the kingdom, all the glass came from a typical local tower called the tower of Crystal Aiiro, so all the glass has a Deep blue hue. The Kingdom of Glass has many Aiiro starfish. Inside is all Deep blue and Noel has a shell throne. Noel's room is in the highest tower of the Palace, with a balcony that has a cushioned chair aiiro and blue moon-shaped cushions. Noel provided the subjects with security. They are very friendly with Noel. They have Deep blue hair and tails, but do not have the bracelets that the mermaid princesses have.
Description
The exterior of the palace has a very similar style to the Capitol in Washington D.C. below is the interior in a corridor.